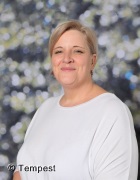 Personal Profile
SPECIALIST LEADER OF EDUCATION (SLE)
Name: Vicky Townson
Specialism/s: English
Main teaching Phase: KS2
About me:
I first qualified as a teacher in 1996, but took time out straight away to have my children. I qualified in early years' education, specifically nursery and reception. I began supply teaching in 2000 and have worked at a few schools in Wellingborough and the surrounding areas. From January 2001 I have worked at Park Junior School and have been in year 4, 5 and 6 throughout this time. During the first few years teaching I also became a Lead Literacy teacher for the county and was able to support schools in a variety of areas around English and teaching. Following on from this I applied for upper key stage team leader within my own school and enjoyed the challenge of working to support year 5/6 but also to ensure the progression through lower and upper Key Stage Two.
Since beginning teaching I have worked within in Key Stage Two, with the majority of my experience being in Year 6. However I have supported all year groups with their work in English and behaviour management. The last three years have been as year group lead and teaching within year 5.
I am passionate about teaching and supporting others to become the best teacher they can be. Children have always been my focal point and how we can work together to ensure they achieve the best education.
I have worked within my own school in supporting the improvement and progression of English, with a particular focus on writing in recent years. This has allowed me to work closely with colleagues, in particular those leading the reading.
Since becoming an SLE I have had the pleasure of leading the Pastoral Support Network meeting and now the English Network meetings. I thoroughly enjoy the opportunities to meet colleagues from other schools and share best practice. It is very rewarding to feel that you have been able to make areas clearer or supported another teacher to gain clarity in their way forward.
I like to develop relationships with others and listen carefully to needs, I feel that I am approachable and love working with other people, bringing my own happy personality to events.